Please note, this page (along with many other pages and posts on this website) contains affiliate links. Sadly this website is not free to run, so anything I earn from these links goes back into the website or supporting my family. Thank you for your help!
After spending two years sifting through a tonne of information trying to figure out what was best for my kids nutritionally, I decided to put together this website so that other parents would not need to do that, but would be able to find a lot of this information in one place.
Having said that, if you are like me and actually enjoy the process of research and reading through a lot of books and articles about a subject that captures you, or if you simply want to find out a bit more than I have provided for you on this website, I have put together a small list of other reading materials, videos and websites that I have personally found very helpful over the years, and hope you will, too.
Why Even Give Up Sugar?
Fat Chance by Dr Robert Lustig
Dr Lustig is a world-renowned obesity expert who has been a paediatric endocrinologist (specialist for children with diabetes) for 20 years. He is most famous for his video: "Sugar: The Bitter Truth" (included below) which sparked the anti-sugar revolution that we are currently in. He is the leading expert on this subject, so if you were to read just one book on sugar, this would be the one. It is highly scientific, but not in a patronising, impossible to understand kind of way. He makes the science accessible and the book is easy to read. This book, along with I Quit Sugar by Sarah Wilson, sparked my personal interest in quitting sugar before it suddenly exploded as a subject in the media.
If you are more of a visual learner, this is a great summary of the findings in his book, although it doesn't go into quite so much detail. It is a lecture, so don't expect a flashy, colourful cartoon-based video! But it is certainly worth watching, as shown by the sheer amount of viewings (currently almost 7 million!).
This Australian documentary of sorts is a fantastic exploration of the dangers of the overconsumption of sugar. It goes into depth on some of the bold anti-sugar claims that have been made and enlists high-profile experts to analyse the data. The basic premise is that Damon Gameau (an Australian comedian) decides after eating sugar free for several years that he wants to understand the reasons behind why he eats the way he eats more in depth, a desire brought on by the upcoming birth of his first child. So, for 60 days, he consumes the average daily consumption of sugar by the average Australian man: 40 teaspoons. (This is about the same as we have here in England.) But there is a twist: he can only consume his 40 teaspoons through foods perceived as "healthy". So for 60 days, he eats dried fruit, fruit juice, flavoured yogurts, "healthy" cereals, low-fat products, packaged "healthy" sauces, etc, and is closely monitored by a team of experts as he does so. And the results are extraordinary.
During the course of these 60 days, he also visits some places particularly affected by the rise of available sugar, and talks with some experts about the recent claims made regarding the major negative effects of sugar on our health. It is a brilliant, funny, tragic and in-depth exploration of sugar and why it is such a big deal, and I would recommend it to anyone who wants to find out more. With cameos from people like Stephen Fry, this is an entertaining way of looking into the issue.
Other films/documentaries like this include: Fed Up, Sugar Crash (RTE) and The Truth About Sugar.
For those looking for the scientific journals, studies, data, etc.
There are always a handful of people, sometimes even among those who know me well, who seem to be under the impression that I read a lifestyle book and a series of Daily Mail articles and decided based on that that sugar was addictive and "evil". For those who know me best, however, they know that I am highly academic and when a subject captures my attention I will obsessively eagerly research it from every angle trying to dig down deep into the topic. I am an optimist perhaps, but a skeptic when it comes to things like "fads", and I am not easily taken in by health trends unless I am 100% convinced that there is a wealth of truth, proof and scientific fact behind it. I would never ever recommend giving up a food group unless you have been advised to do so by your doctor, and fail to be convinced by many of the "diets" out there. I still eat carbs (although less than most people perhaps), gluten, dairy and meat. And I don't plan on giving them up anytime soon (although I have tried to cut back a little on all these things and up my veg intake instead as I do feel we overeat many of these things in our society!). I respect that other people feel differently, and that is their decision, but I personally have failed to be convinced by the research I have done.
But sugar is not a food group. And the evidence is overwhelming. To the point where I could not possibly list them all on this page without you needing to scroll until your fingers go numb.
I have not created Raising Sugar Free Kids to be a scientific, theory-based website. I have created it to be a practical help to families that does not overwhelm. If, however, you have the time and inclination to delve deeper, I have collected many scientific articles, journals, studies and data that I am more than willing to email to those who want it. If you are interested in some of this data, please do contact me at info@raisingsugarfreekids.com or through my Contact page and I will get back to you with them ASAP.
In the meantime, Dr Robert Lustig's website, Sugar Science, is not a bad place to start. And if you read an online article, make sure you scroll to their references and read the original studies they are reporting on to make sure they are legitimate!
Quitting Sugar: The Process
I Quit Sugar by Sarah Wilson
This is the book that introduced me to the idea of giving up sugar, as well as covering many of the whys behind it. I approached it very skeptically, but after reading it, realised that I had to at least give the 8-week program a go. And it worked so so so amazingly well for us, that we never looked back! If you are looking for something a little less 'sciency' (although there is plenty of basic science in it!) and a lot more practical, then this is the book for you.
The I Quit Sugar 8-Week Program
This is the actual program on the I Quit Sugar website. You can work through the program out of the book if you want, but if you have the money to pay for the guided program, it makes it much much easier, providing forums which include experts (from doctors to nutritionists to personal trainers) and ambassadors who have completed the program and been through the experience themselves (including myself), advice and even inexpensive meal plans. It literally takes the effort and time out of quitting, so if you want to do it with the least amount of inconvenience possible, this is probably for you.
Life Beyond Quitting
Simplicious by Sarah Wilson
This is a great book full of recipes and advice. The sweet recipes are low- or no-sugar and one of the wonderful things about this book is the low-waste, tight budget and ethical philosophy that we are very much trying to adopt in our household. The savoury recipes are particularly amazing and highly nutritious, full of goods fats, fibre and protein along with a tonne of veggies to jeep you feeling fuller for longer (so less snacking and less sugar consumption!).
I Quit Sugar For Life by Sarah Wilson (+ any of the other I Quit Sugar cookbooks – the Kids or Family Meals one are especially helpful! I also have the Slow Cooker one which is great and saves me a lot of time and energy!)
The follow-up to I Quit Sugar, this book is great for more detailed information on how to stay off the sugar after detoxing.
Weelicious by Catherine McCord
Again, I love this book for its collection of wonderful recipes and advice on how to get children more interested in cooking and eating. I love Catherine's philosophy in general and agree with virtually everything she believes in, although I take issue with the sweeteners used (agave is extremely high in fructose: 90%!!), and I replace honey, maple syrup and agave syrup with rice syrup, and use stevia, erythritol or xylitol in place of table sugar (see my sweeteners page for more information on these and why we use them).
Weelicious Menu Plans (Update: this is now called One Potato and is only available in parts of the US as it is now not only plans the weekly recipes but sends the ingredients to your door – still a worthwhile investment for some, but if you are not in the US, or simply looking for meal planning rather than delivery, then see the Frugal Real Food Meal Plans below.)
As with the I Quit Sugar 8-Week Program for the detox period, if you want someone to take as much of the work out of life beyond quitting as possible for you, then I strongly recommend signing up to something like Catherine's menu planning service. Cooking and planning your meals well is essential to sugar free living, especially if you want to eat sugar free on a budget. And I know firsthand how overwhelming it can be as a parent to find precious time to plan out those meals. So if you are willing to put in a very small amount of money (we're talking $8 (that's £5.50 to us Brits) a month!) to have that burden taken off you and save you time, this is indispensable! Please just bear in mind once again that although Catherine does occasionally provide stevia-sweetened or rice syrup-sweetened recipes, a lot of her sweet recipes are low-ish sugar perhaps, but certainly not sugar free! Swapping maple syrup or honey for rice syrup, and sugar for stevia, xylitol or erythritol is probably best for the treats…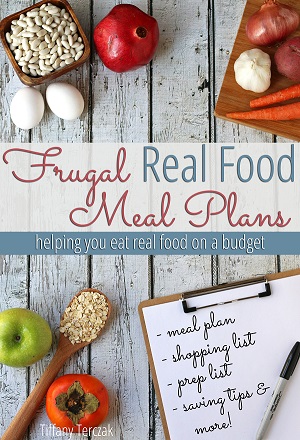 Offering the same service as Catherine in Weelicious Menu Plans was, Tiffany from Don't Waste the Crumbs knows all about real food meal planning on a budget. She feeds her family of four for $350 a month (that's £280), and I regularly use her meal plans for myself. As with Weelicious recipes, you need to keep an eye on the sugars used and replace with sweeteners (or better yet, skip entirely!) when needed. Sometimes I just swap out the sweeter recipes for one of my own or sugar free ones I have found and pinned on my dessert board or some of my other Pinterest boards. But I have found that Tiffany can not only cut down massively on the time I put into meal planning, she can also save me more than the money she asks for for full access to the meals plans anyway! Which is $9.97 (£8) per month by the way. And if you don't mind a little bit of planning your time and figuring out the "cook ups" and things yourself, you can just check out her free past seasonal meal plans and do the rest yourself!